Source: https://www.reuters.com/article/us-amazon-com-sports/amazon-after-big-hire-experimenting-with-sports-media-strategy-interview-idUSKCN1TU0PT
Chinese billionaire and Alibaba founder, Jack Ma, is gathering data from fans, in the hopes of transforming the e-commerce and broadcasting space in sports. Alisports, the Alibaba Group's sports division, is adopting a new strategy by buying broadcast rights and collecting viewer information to tailor sports advertising, selling everything from running shoes to health insurance.
This new strategy will be trialled using marathon events as a pilot run, with hopes to replicate the strategy to other fields including Esports and soccer as the sports affiliate company expands in the future. According to Zhang DaZhong, Alisports CEO, marathons, are an appropriate target, given the signs of the Chinese economy slowing, and the relative affordability of its broadcast rights, compared to more expensive tournaments and events."Right now isn't a great time to explore futile experiments, instead we should leverage our strength," he said. "Winter might be arriving soon for the economy, it might be fierce."
The Chinese sports industry is ripe for investment, as the government estimates its worth to grow to 5 trillion yuan ($728 billion) by 2025. Alibaba is well-positioned to leverage its position to capitalise on the growing industry. Zhang recognises the changing landscape of the sports industry – "we are a platform that records big data on sports. Viewers watching sports on our sites now are directly connected with the e-commerce stores, something that couldn't happen in the past."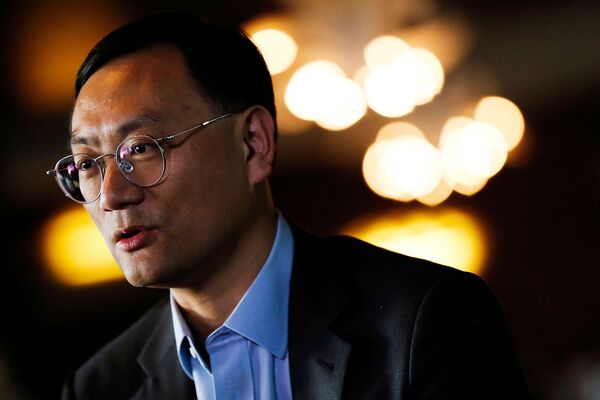 Sports viewing preferences in China are also different to markets such as the US, with many more watching on mobile or computer devices compared to viewing on TV. Approximately 600 million people in China watched videos online as of June – a staggering 95% of which watch via mobile, according  to the China Internet Network Information Centre.
Alisports plans to triple platform users to 100 million by the November this year. The company has already raised more than 1.2 billion yuan in a series A financing round in April, coming to a valuation of over 8 billion yuan.
While Alibaba is based in Hangzhou, Alisports is headquartered in Shanghai in a Mao-era styled sports centre. Its office has rows of open desks and spaces to encourage staff to exercise, and is also fitted with studio booths and blue screens for the video production team.
Alisports has been successful in its early days, with sales mostly reached via its Alipay app. According to Mark Tanner, founder of China Skinny, a Shanghai-based research and marketing company, Alisports' edge lies in its place within the broader Alibaba ecosystem – "Alibaba's breadth and reach would allow them to make this more profitable than any other business trying the same thing". Zhang is focusing on using back-end data with other units in the Alibaba Group, which will be a major pitching point when the Alisports ad business approaches brands like Adidas.
"When you watched sports events on the TV in the past, as a viewer you wouldn't know how to buy products you liked from the advertisement," Zhang said. "Now viewers can go straight to Adidas's store on Tmall as they watch the games on our site." Customised viewer-specific marketing means that brands can save on their spending, with costs savings passed down to consumers in the form of discounts and coupons to drive sales.
"The extra data will provide additional context into users allowing them to provide deeper, more tailored personalized profiles for users, which obviously helps every aspect of their business's profitability," said Tanner. "So in short, I think it is a smart move."